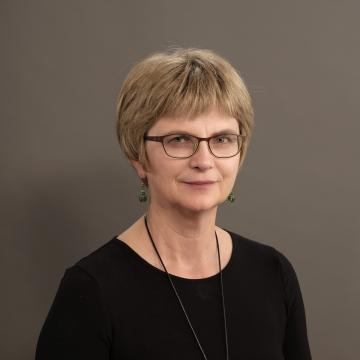 Office hours
Tuesday, 16:00 - 17:00
Wednesday, 12:00 - 13:00

It is also possible to make an individual appointment.

July, August, September and week 1 in October 2023
Tuesday, 15.00 - 17.00

Cabinet
117a
No tears in the writer, no tears in the reader.
Department of English
Asst. Prof. Cvetka Sokolov
Cvetka Sokolov studied English and German at the Faculty of Arts, University of Ljubljana, between 1982 and 1988. She became a Master of Arts in English Didactics with the thesis Written Composition at Tertiary Level in 1999, and acquired her PhD in English Didactics in 2014, having defended her dissertation The Role of Standardization in Assessing Writing in Teaching English as a Foreign Language.  
She worked as a teacher of English and German at the Secondary School of Natural Sciences/Bežigrad Grammar School from 1988 to 1993. In 1992, she started working as a lecturer of English at the Department of English at the Faculty of Arts, UL. She teaches practical language classes within BA and MA studies. Her research work fucuses on teaching and assessing writing.
IMPORTANT BIBLIOGRAPHICAL ENTRIES
SOKOLOV, Cvetka. Pisna zmožnost - motnje v koherenci. In: GROSMAN, Meta (ed.). Angleščina - prenovi na pot : [zbornik študij o kurikularni prenovi]. Ljubljana: Zavod Republike Slovenije za šolstvo, 2000, 97-136. (253 pages) ISBN: 961-234-263-6.
SOKOLOV, Cvetka. Essay titles - getting the best out of students?. ELOPE (Ljubl.), 2005, vol. 2, [no.] 1/2, 231-242. ISSN: 1581-8918. Baza: MLA.
SOKOLOV, Cvetka. Self-Evaluation of Rater Bias in Written Composition Assessment. In: LAH, Meta (ed.). Skupini evropski jezikovni okvir – navzkrižni pogledi (Cadre européen commun de référence pour les langues - regards croisés). Linguistica, 2014, vol. 54, 261–275. ISSN: 0024-3922.
SOKOLOV, Cvetka. The Writing Process Under Exam Conditions. Arbeiten aus Anglistik und Amerikanistik, 2014, vol. 39, [no.] 2, 129–154. ISSN 0171-5410.
SOKOLOV, Cvetka. Analiza zgledov meril za razčlenjevalno ocenjevanje razlagalnih in utemeljevalnih pisnih sestavkov. Vestnik za tuje jezike (Ljubl.), 2018, vol. 10, [no.] 1, 169-186.  ISSN 1855-8453.
Compulsory Courses
Elective Courses