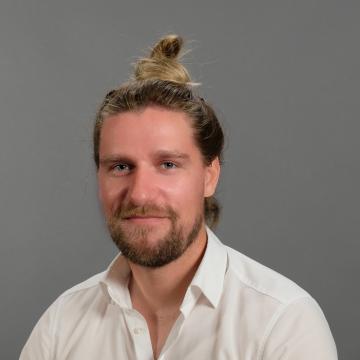 Office hours
Tuesday 13:45-14:45 or by appointment in room 117.
Cabinet
117
Department of German, Dutch and Swedish
Lector Bernhard Winkler
Bernhard Winkler is a DAAD Lektor in the German Programme. His research focuses on German literature in Romanticism and Modernity. His current work focuses on erotic discourses in contemporary literature.
His most recent publications analyze erotic figurations in the works of Botho Strauß and the aesthetics of Evil in David Lynch's Twin Peaks.
He studied at the University of Regensburg, the École Normale Supérieure de Lyon and the University of Colorado at Boulder where he also taught as Teaching Assistant. He worked for two years as DAAD assistant at ELTE Budapest before starting his DAAD lectorate at University of Ljubljana.
Bernhard Winkler received a BA in German Studies and a MA in Comparative Literature of the University of Regensburg with an emphasis on early 19th-Century German, French and American Literature and is currently working on his PhD project on Botho Strauß.
Publications
Der verstummende Eros - Zu Berthold Viertels Liebeslyrik. In: Johann Georg Lughofer (Ed.): Ljurik 11: Berthold Viertel. Interpretationen - Kommentare - Didaktisierungen. Wien 2023 (Forthcoming).
Erotic Otherness - The Love Gaze in Botho Strauß' Niemand anderes. In: Mojca Krevel (Ed.): Wording Otherness: Living and Learning in Dissimilitude Without Dissonance. Cambridge 2023 (Forthcoming).
Eros & Evil – Sexual Negativity in Twin Peaks. In: Franck Boulègue/Marisa C. Hayes (Ed.): Supernatural Studies. Special Issue: Twin Peaks The Return. Fall 2022 (Forthcoming).
Wollust am Text – Figurationen des Eros in Botho Strauß' zu oft umsonst gelächelt. In: Giuseppina Cimmino/Dana Steglich/Eva Stubenrauch (Ed.): Figur(ation)en der Gegenwart. Köln 2023, p. 165-188.
Schillers "Ode an die Freude" als Steigbügelhalter für die Europahymne. In: Johann Georg Lughofer (Ed.): Ljurik 10: Hymnen Österreichs. Interpretationen - Kommentare - Didaktisierungen. Wien 2022, p. 249-259.
Erotischer Widerstand. Liebe und Ökonomie in Botho Strauß' Paare, Passanten. In: Paul Keckeis/Gerda E. Moser/Viktoria Take-Walter (Ed.): Literarische Aushandlungen von Liebe und Ökonomie. Berlin 2022, p. 335-352.
Erotische Novellistik – Botho Strauß' "Bewußtseinsnovelle" Die Unbeholfenen. In: Sascha Kiefer/Torsten Mergen (Ed.): Gegenwartsnovellen. Literaturwissenschaftliche und literaturdidaktische Perspektiven im 21. Jahrhundert. Hannover 2020, p. 155-173.
"It is in our house now" – Zur Ästhetik des Bösen in Twin Peaks. In: Caroline Frank/Markus Schleich (Ed.): Mysterium Twin Peaks. Zeichen – Welten – Referenzen. Wiesbaden 2020, p. 193-212.
Abgründe zwischen Schönheit und Schrecken. Zu Edgar Allan Poes Ästhetik des Bösen. In: Vera Faber/Barbara Seidl (Ed.): Grenzüberschreitungen und Grenzüberschreibungen in Theorie, Literatur und Kultur. Wien 2021, p. 79-116.
Spiralen des Bösen – Zur transgressiven Ästhetik in Heinrich von Kleists Der Findling. In: Weimarer Beiträge. Zeitschrift für Literaturwissenschaft, Ästhetik und Kulturwissenschaften 65 (3, 2019), p. 380-406.
"Außer Dante kein Weltbild" – Zur mythophorischen Intertextualität in Dantes Divina Commedia und Botho Strauß' Oniritti Höhlenbilder. In: Ilona Feld-Knapp (Ed.): Literatur. Cathedra Magistrorum. Beiträge zur Lehrerforschung, Bd. 4. Budapest 2018, p. 350-371. https://repozytorium.amu.edu.pl/bitstream/10593/24354/1/Cathedra-Magistrorum-4-Literatur-bel%C3%ADv-prov.pdf
Die Rettung des Heiligen durch die Kunst. Literatur als Ritual bei Botho Strauß. In: Tomas Sommadossi (Ed.): "Polytheismus der Einbildungskraft." Wechselspiele von Literatur und Religion von der Aufklärung bis zur Gegenwart. Würzburg 2018, p. 275-292.
Der kontaminierte Käfer – Eine "ausnehmend ekelhafte" Annäherung an Franz Kafkas Verwandlung. In: literatur für leser 17,1 (2017), p. 73-83. https://www.peterlang.com/fileasset/Journals/LFL012017_ebook.pdf
Sonnengötter & Sodomie. Der letale Schamkonflikt in Racines Phèdre. In: PSYCHE – Zeitschrift für Psychoanalyse und ihre Anwendungen 71 (6/2017), p. 479-505.
Poetische Experimentalmetaphysik. Jean Pauls Traum-Expedition in die "2te Welt" in der Rede des toten Christus vom Weltgebäude herab, dass kein Gott sei. In: Jahrbuch der Jean Paul Gesellschaft 51 (2016), p. 123-140.
"Das Unum des Universums". Zur synthetisierenden Kraft der Liebe bei Hölderlin, Novalis und Schlegel. In: Athenäum. Jahrbuch der Friedrich Schlegel-Gesellschaft 26 (2016), p. 121-160.
Der Dichter als Idiot – Zur Poetik des Außenseiters in Botho Strauß' Lichter des Toren. In: Studia theodisca 23 (2016), p. 33-52. https://riviste.unimi.it/index.php/StudiaTheodisca/article/view/7545
Presentations
Erotisches Framing bei Botho Strauß; Tagung des Südosteuropäischen Germanistenverbandes 2022, Universität Prishtina, November 2022
Berthold Viertels Liebeslyrik; 13. Internationaler Lyriktag der Germanistik Ljubljana: Berthold Viertel zum 70. Todesjahr, April 2023
Loving Revenants - Mythological Intertextuality in Botho Strauß' Chiffren für sie; Northeast Modern Language Association Convention 2023, Niagara Falls Convention Center, March 2023
Erotic Otherness - The Love Gaze in Botho Strauß' Niemand anderes; Beyond Otherness: Living and Learning in Dissimilitude without Dissonance, University of Maribor, September 2022
Pothos & Thanatos - Erotics of Introspection in Botho Strauß' Die Widmung; Northeast Modern Language Association Convention 2022, Johns Hopkins University Baltimore, March 2022
Urban Eroticism - The Love Gaze in Botho Strauß' Niemand anderes; Pacific Ancient and Modern Language Association Conference 2021 Las Vegas: "City of God, City of Destruction", November 2021
Schillers "Ode an die Freude" als Steigbügelhalter für die Europahymne; 11. Internationale Lyriktage der Germanistik Ljubljana: Hymnen Österreichs; October 2021
Eros & Evil - Sexual Negativity in Twin Peaks: The Return; "It Is In Our House Now - Twin Peaks: The Return First International Online Conference", Universities of Bordeaux, Liège, Cork, organized by Lynchland and Unwrapping the Plastic, June 2021 https://www.youtube.com/watch?v=L_Cqo0JHiYc&list=PLmo-djgzFgFzTpwkSoNn5Gu2sLrH_kNS0&index=6
Erotischer Widerstand – Liebe und Ökonomie bei Botho Strauß; Internationale Tagung "Liebe & Ökonomie: Literarische Aushandlungen", Universität Klagenfurt, November 2020
Wollust am Text – Figurationen des Eros bei Botho Strauß; Tagung des DFG-Graduiertenkollegs Gegenwart/Literatur, Rheinische Friedrich-Wilhelms-Universität Bonn: Figur(ation)en der Gegenwart, February 2020
Die Suche nach der großen Chiffre – Botho Strauß' Die Unbeholfenen; 26. Deutscher Germanistentag 2019 zum Thema "Zeit", Universität des Saarlandes Saarbrücken im Panel "Die Novelle – eine zeit-gemäße Gattung", September 2019                                                                           
Sonnengötter & Sodomie: Der letale Schamkonflikt in Racines Phèdre; 7. Herbstakademie der Deutschen Psychoanalytischen Gesellschaft: "Schuld und Scham", Universität Heidelberg, October 2018
Literatur als Reconquista des Herzens. Liebe und Eros bei Botho Strauß; Prager Germanistische Studententagung, Karlsuniversität Prag, March 2018                                  
"Außer Dante kein Weltbild" – Das postmoderne Inferno in Botho Strauß' Oniritti Höhlenbilder; Nachwuchskolloquium der Deutschen Dante-Gesellschaft: "Dante und die Apokalypse. Auseinandersetzungen mit der Göttlichen Komödie und ihren Jenseitsvorstellungen", Deutsch-Italienische Vereinigung, Frankfurt a. M., October 2017
Abgründe zwischen Schönheit und Schrecken – Edgar Allan Poes Ästhetik des Bösen; Nachwuchstagung "Grenzüberschreitungen in Literatur und Kultur/theorie" Universität Wien, September 2017
Spirals of Evil. Transgressive Aesthetics in Heinrich von Kleist's Der Findling; Carolina Graduate Literature Society Conference "Crime and Criminality" an der University of South Carolina, Columbia, April 2016
"Je t'aime ô capitale infâme" Sur l'esthétique du Mal chez Baudelaire; English Graduate Student Society conference "The Poetics of Place: Performing Selves In and Beyond Cities", Université de Montréal, Québec, March 2016
'Vorder- und Rückseiten' der Musik. Zur musikalischen Poetik bei Rainer Maria Rilke und Hugo von Hofmannsthal; Prager Germanistische Studententagung, Karlsuniversität Prag, March 2014
"Die Mutter und die Hure" – Zur raummetaphorischen Darstellung des Dämonisch-Weiblichen in Joseph von Eichendorffs Erzählung Das Marmorbild; Prager Germanistische Studententagung, Karlsuniversität Prag, March 2013