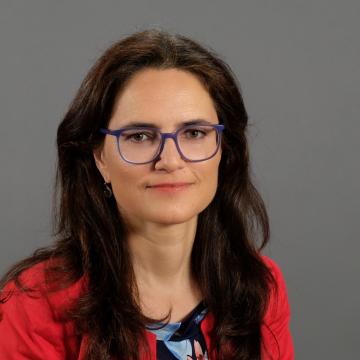 Office hours
Tuesday 15.30-16.10 (Aškerčeva 2) or by prior arrangement.
Cabinet
324
Department of German, Dutch and Swedish
Asst. Prof. Saša Podgoršek
Saša Podgoršek je lektorica za nemški jezik. Študirala je na Oddelku za germanistiko FF UL, na Univerzi na Dunaju in na Univerzi v Kasslu, kjer je leta 2001 magistrirala ter na Pedagoški fakulteti Univerze na Primorskem, kjer je leta 2016 doktorirala na temo rabe IKT pri pouku tujih jezikov. Kot gostujoča predavateljica je poučevala na univerzi Gießen (2006), v okviru Erasmus+ izmenjave na univerzah v Benetkah (2016) in Oxfordu (2018) ter v okviru Germanističnega partnerstva GIP na Univerzi v Tomsku (2019).
Vodi jezikovne vaje iz nemškega strokovnega jezika na oddelkih za etnologijo in kulturno antropologijo, filozofijo in umetnostno zgodovino. Do 2014 je izvajala predmet Spletno podprto učenje in poučevanje tujih jezikov, še prej pa vaje iz didaktike nemščine in lektorske vaje. Organizira ekskurzije v Avstrijo za študente etnologije in kulturne antropologije. Stalno se strokovno izpopolnjuje in sodeluje na strokovnih in znanstvenih koferencah doma in v tujini, dejavna je kot urednica in recenzentka za domače in tuje revije ter učbenike. Je predsednica Slovenskega društva učiteljev tujega strokovnega jezika.
PODGORŠEK, Saša, ISTENIČ STARČIČ, Andreja, KACJAN, Brigita. The foreign language teacher's role in ICT-supported instruction. Sodobna pedagogika, 2019, letn. 70, št. 1, str. 174-190. https://www.sodobna-pedagogika.net/clanki/01-2019_vloga-ucitelja-tujega-jezika-pri-pouku-podprtem-z-ikt.
PODGORŠEK, Saša, PASCHKE, Peter. Entwicklung der fachbezogenen Lesekompetenz für Studierende geisteswissenschaftlicher Fächer. Scripta manent, 2018, letn. 12, št. 2, str. 210-227. http://scriptamanent.sdutsj.edus.si/ScriptaManent/article/view/250/167.
MERTELJ, Darja, GODNIČ VIČIČ, Šarolta, JURKOVIČ, Violeta, DOSTAL, Mateja, CELINŠEK, Dubravka, PODGORŠEK, Saša. Mednarodna umeščenost raziskovanja tujih jezikov stroke v slovenskem visokošolskem prostoru. V: AŠKERC, Katarina (ur.), et al. Izboljševanje kakovosti poučevanja in učenja v visokošolskem izobraževanju: od teorije k praksi, od prakse k teoriji. Ljubljana: Center RS za mobilnost in evropske programe izobraževanja in usposabljanja, 2016, str. 37-43. http://www.cmepius.si/wp-content/uploads/2014/02/Monografija_splet.pdf.
PODGORŠEK, Saša. Pouk tujih jezikov s podporo informacijske in komunikacijske tehnologije: analiza stanja v slovenskih srednjih šolah. Uporabna informatika, jul./avg./sept. 2015, letn. 23, št. 3, str. 151-161.
LESKOVEC REDEK, Christiane, PODGORŠEK, Saša. "Dai scheanai Mitso" : über Gottschee, die Gottscheer und das Gottscheer Deutsch : eine Exkursion zur Ausstellung Nekdanji nemški jezikovni otok na Slovenskem. V: VALENČIČ ARH, Urška (ur.), ČUDEN, Darko (ur.). V labirintu jezika = Im Labyrinth der Sprache, (Slovenske germanistične študije, 12). 1. izd. Ljubljana: Znanstvena založba Filozofske fakultete, 2015, str. 241-261, 410.
PODGORŠEK, Saša. Pouk nemščine s podporo IKT na osnovnih in srednjih šolah. Pedagoška obzorja, 2011, letn. 26, [št.] 1/2, str. 55-77.
Učbeniki
PODGORŠEK, Saša. Nemščina za etnologe in kulturne antropologe I = Deutsch für Ethnologen und Kulturanthropologen I. 1. natis. Ljubljana: Znanstvena založba Filozofske fakultete, 2015. (avtorica)
I-učbenik za nemščino za 7. razred OŠ (urednica)
I-učbenik za nemščino za 8. razred OŠ (urednica)
I-učbenik za nemščino za 9. razred OŠ (urednica)
DANKO, Manica, ZORKO, Vida. English language skills for students of administrative sciences. Ljubljana: Fakulteta za upravo, 2018. (recenzentka)
Compulsory Courses
Elective Courses