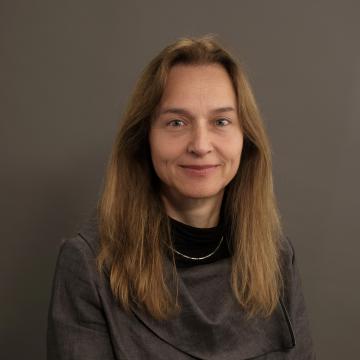 Department of German, Dutch and Swedish
Prof. Marija Javor Briški
Biographie
Studium der Germanistik und Romanistik an der Philosophischen Fakultät Ljubljana, freiberufliche Übersetzerin, seit 1993 wissenschaftliche Mitarbeiterin, seit 1998 Assistentin, seit 2003 Dozentin für Ältere deutsche Sprache und Literatur, seit 2008 Außerordentliche und seit 2018 Ordentliche Professorin für Literaturen in deutscher Sprache an der Philosophischen Fakultät Ljubljana. Studien- und Forschungsaufenthalte in Heidelberg, Leipzig, Regensburg und Wien. Gastvorträge und Lehre u. a. in Santiago de Compostela, Porto, Amsterdam, Olomouc und Palermo. Im Wintersemester 2010/11 Gastprofessorin an der Alpen-Adria Universität Klagenfurt.
 
Forschungstätigkeit
Ältere deutsche Sprache und Literatur mit folgenden Schwerpunkten: Komik, Historiographie, produktive Rezeption der älteren deutschen Literatur, Emotionen in literarischen Texten, ästhetische, kulturelle und geographische Transgressionen in der Literatur, Erforschung der Kanzleisprache in deutschen Quellen aus dem slowenischen ethnischen Gebiet und der Mythos Kaiser Maximilians I. in literarischen Diskursen des 19. und 20. Jahrhunderts.
Arbeitsbereiche
Senatsmitglied,
Koordinatorin für internationale Zusammenarbeit,
Mitherausgeberin der Reihe Slowenische germanistische Studien (SGS),
Mitglied der Evaluierungskommission der Abteilung für Germanistik.
Mitgliedschaft
DGV (Deutscher Germanistenverband),
IMC (Internationales Mediävistisches Colloquium),
GGSG (Gesellschaft für germanistische Sprachgeschichte),
IVG (Internationale Vereinigung für Germanistik),
Internationales Forschungsnetzwerk MOVENS.
Auswahlbibliographie
Literatur und Wissen in Johann Gabriel Seidls virtuellen Wanderungen durch Tyrol und Steyermark. In: ULBRECHT, Siegfried (Hg.), ULBRECHTOVÁ, Helena (Hg.). Literatur und Wissen, (Germanoslavica, (2018), Sondernummer). Praha: Euroslavica. 2018, Jg. 29, Sondernummer, S. 18-36.
Wegbeschreibungen in Reiseberichten des Mittelalters und der Frühen Neuzeit. In: PODREKA, Jasna (Hg.). Nasilje : njegove interpretacije in reprezentacije = Violence : its interpretations and representations, (Ars & humanitas, 12, 1). Ljubljana: Znanstvena založba Filozofske fakultete: = University Press, Faculty of Arts. 2018, Jg. 12, Nr. 1, S. 204-223.
Das Bild Luthers in der Literatur des 21. Jahrhunderts. Vestnik za tuje jezike, 2018, Jg. 10, Nr. 1, S. 9-24.
Nemški Pavliha v primerjavi s svojo predlogo Tyll Eulenspiegels wunderbare und seltsame Historien. Vestnik za tuje jezike, 2017, Jg. 9, Nr. 1, S. 159-170.
"Denen neugierigen Liebhabern der frembden Reisen/Länder/Leute und deren Umbstände und Zufälle angenehm seyn soll" : Struys' Reisebeschreibung und die Erfahrung des Fremden. In: KRAMBERGER, Petra (Hg.), SAMIDE, Irena (Hg.), ŽIGON, Tanja (Hg.). "Und die Brücke hat gezogen, die vom Ost zum West sich schwingt" : literarische, kulturelle und sprachliche Vernetzungen und Grenzüberschreitungen : Festschrift für Mira Miladinović Zalaznik, (Reihe Slovenske germanistične študije, 14). Ljubljana: Znanstvena založba Filozofske fakultete. 2017, S. 197-210.
Johann Sigmund Wurffbains Beschreibung seiner Reise nach Ostindien : zur Varianz der Drucke des 17. Jahrhunderts. In: CIESLIK, Karin (Hg.), PERPLIES, Helge (Hg.), SCHMID, Florian (Hg.). Materialität und Formation : Studien zum Buchdruck des 15. bis 17. Jahrhunderts : Festschrift für Monika Unzeitig, (Presse und Geschichte - Neue Beiträge, Bd. 102). Vorzugsausg. mit 10 Farbtafeln. Bremen: Edition Lumière. 2016, S. 79-92.
Das Bild Kaiser Maximilians I. in der Literatur der Restaurationsepoche (1815-1830). In: AUTERI, Laura (Hg.), NOE, Alfred (Hg.), ROLOFF, Hans-Gert (Hg.). Die Bedeutung der Rezeptionskultur für Bildung und Kultur der frühen Neuzeit (1400-1750) 4 : Beiträge zur vierten Arbeitstagung in Palermo (April 2015), (Jahrbuch für internationale Germanistik, Reihe A, Kongressberichte, Bd. 126). Bern [etc.]: P. Lang. 2016, S. 105-122.
The Uses of the Past : Anastasius Grün's Political Ideas in the Field of Fiction. XLinguae.eu, June 2015, vol. 8, issue 3, S. 31-40.
Die Zimmern auf Reisen : zur Mobilität in einer Familienchronik aus dem 16. Jahrhundert. In: KARLSSON HAMMARFELT, Linda (Hg.), PLATEN, Edgar (Hg.). Der reisende Europäer, (Perspektiven). München: Iudicium, 2014, S. 146-161.
Eifersucht und Frauenlist : Boccaccios Decameron und seine Rezeption in der Frühen Neuzeit am Beispiel von Hans Sachsens Fastnachtspiel Der gross Eyferer, der sein Weib Beicht höret. Acta neophilologica, 2014, Jg. 47, Nr. 1/2, S. 73-85.
Viola Alvarez' Die Nebel des Morgens : eine Trivialisierung des Nibelungenliedes. In: PARRA MEMBRIVES, Eva (Hg.), CLASSEN, Albrecht (Hg.). Literatur am Rand : Perspektiven der Trivialliteratur vom Mittelalter bis zum 21. Jahrhundert = Literature on the margin : perspectives on trivial literature from the Middle Ages to the 21st century, (Popular fiction studies, vol. 1). Tübingen: Narr Francke Attempto, 2013, S. 157-165.
Angst - Trauer - Zorn : "Emotionen" im Nibelungenlied. Acta neophilologica, 2012, Jg. 45, Nr. 1/2, S. 87-96, 155-156.
Slowenien. In: GREULE, Albrecht (Hg.), MEIER, Jörg (Hg.), ZIEGLER, Arne (Hg.). Kanzleisprachenforschung : ein internationales Handbuch. Berlin; New York: W. de Gruyter, cop. 2012, S. 589-598.
Instruktion Kaiser Maximilians I. vom 7. August 1515 an die Krainer Landstände und ainer ersamen landschaft undertanige antwort : eine vergleichende syntaktische Untersuchung. In: ZIEGLER, Arne (Hg.), BRAUN, Christian (Hg.). Historische Textgrammatik und historische Syntax des Deutschen : Traditionen, Innovationen, Perspektiven. Berlin; New York: De Gruyter, 2010, Bd. 2, S. 841-857.
Kulturkonflikte als Machtkonflikte am Beispiel spätmittelalterlicher Reiseberichte. Acta neophilologica, 2006, Jg. 39, Nr. 1/2, S. 99-108.
Die Zimmerische Chronik : Studien zur Komik als Medium der Dialogisierung des historischen Diskurses, (Bayreuther Beiträge zur Literaturwissenschaft, Bd. 27). Frankfurt am Main [etc.]: Peter Lang, 2005. 301 S.
Eine Warnung vor dominanten Frauen oder Bejahung der Sinnenlust? : zur Ambivalenz des 'Aristoteles-und-Phyllis-Motivs' als Tragezeichen im Spiegel deutscher Dichtungen des späten Mittelalters. In: WINKELMAN, Johan H. (Hg.), WOLF, Gerhard (Hg.). Erotik, aus dem Dreck gezogen, (Amsterdamer Beitäge zur älteren Germanistik, Bd. 59). Amsterdam; New York: Rodopi. 2004, str. 37-66.